IP-Tools offers many TCP/IP utilities in one program. This award-winning program can work under Windows NT 4.0, Windows 2000/XP/Vista, Windows Server 2003/2008 and is indispensable for anyone who uses the Internet or Intranet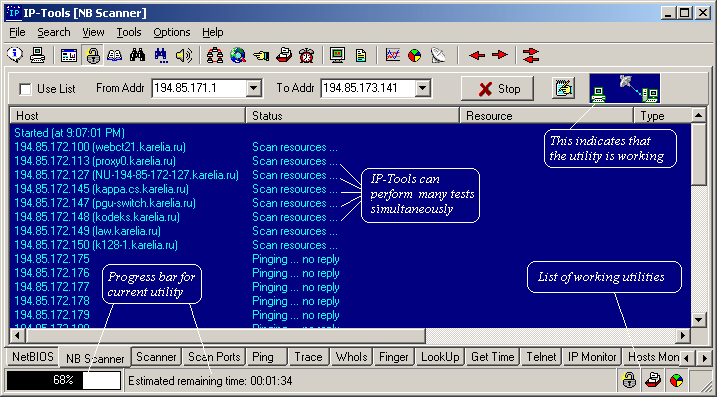 | | | |
| --- | --- | --- |
| | Local Info | – examines the local host and shows info about processor, memory, Winsock data, etc |
| | Connection Monitor | – displays information about current TCP and UDP network connections |
| | NetBIOS Info | – gets NetBIOS information about network interfaces (local and remote computers) |
| | NB Scanner | – shared resources scanner |
| | SNMP Scanner | – scans network(s) for SNMP enabled devices |
| | Name Scanner | – scans all hostnames within a range of IP addresses |
| | Port Scanner | – scans network(s) for active TCP based services |
| | UDP Scanner | – scans network(s) for active UDP based services |
| | Ping Scanner | – pings a remote hosts over the network |
| | Trace | – traces the route to a remote host over the network |
| | WhoIs | – obtains information about a Internet host or domain name from the NIC (Network Information Center) |
| | Finger | – retrieves information about user from a remote host |
| | LookUp | – looks for domain names according to its IP address or an IP address from its domain name |
| | GetTime | – gets time from time servers (also it can set correct time on local system) |
| | Telnet | – telnet client |
| | HTTP | – HTTP client |
| | IP-Monitor | – shows network traffic in real time (as a set of charts) |
| | Host Monitor | – monitors up/down status of selected hosts. |
| | Trap Watcher | – allows you to receive and process SNMP Trap messages. |
Features:
Program allows multitask operation – You may use all utilities at the same time.
Many utilities can obtain information from a single host, from all hosts within a range of IP addresses (ex. 195.128.74.1 – 195.130.200.5) or work with list of hosts and IP addresses.
IP-Tools can save obtained information into text file or create cool HTML reports.
Highly intuitive interface makes operation easy for users
Easy Install / Upgrade / Uninstall program
After registration you gain the right to use ALL future IP-Tools updates and releases, on the same OS platform, in the registered mode.
Microsoft Windows NT 4.0 (SP5), Windows 2000, Windows XP Professional, Windows Server 2003, Windows Vista or Windows Server 2008;
Internet connection or TCP/IP enabled LAN;
4MB free disk space;
Minimum screen resolution: 800 x 600
Like To Download IP Tools